Scotty's Sentiments - PNG Spotlight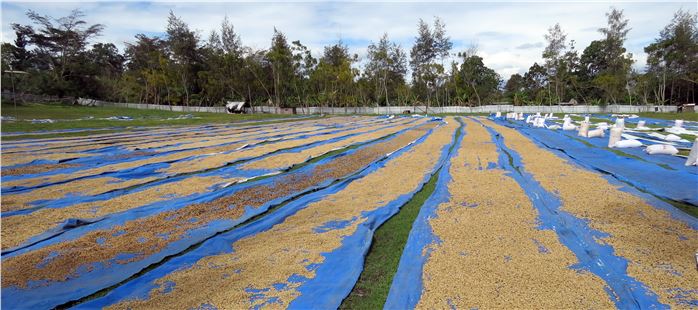 My latest trip this month was my fifth time back to Papua New Guinea over the past 32 years. It is interesting to see how PNGs coffee industry has survived throughout the years and the ever-present struggles they face today.
My latest trip this month was my fifth venture back to Papua New Guinea over the past 32 years. I left PNG in 1986 after working in the coffee industry for three years with the largest coffee exporter at the time.
At first notice when arriving in Goroka was a brand-new terminal building at the airport. It is only occupied by one of two airlines in PNG due to the high operating and rental costs of the upgrade, and likely to remain this way for time to come. It's only a short drive from the airport to 'coffee road' where all the major exporters are located in Goroka. As we drove down the road it was clear that not much had changed over the past 30 odd years. Many of the old warehouses from the 1970s and 80s are still in use today.

The industry has seen many companies come and go over time, yet currently only 5 major exporters remain (account for approximately 80% of export volume) as well as various smaller ones who specialise in regional and certified coffees.
Speaking to the people I caught up with who have been involved in the industry for 20 to 30 years brought up some major issues they feel need addressing to reinvigorate the industry for years to come.
The biggest and most interesting subject was the age of coffee trees in PNG, with many people estimating the average age of a coffee tree is now nearly 40 years old. This is nearing the end of a coffee tree's life cycle, resulting in lesser volumes of cherry on the tree. Trees of that age need constant farming care and greater inputs to keep more consistent production. The PNG farmer however has a tendency to be a substance farmer that is very much cash focused. Unless the price of coffee is at a reasonable level for their efforts, the farmer will quickly change to quicker growing crops that can be easily sold for cash, such as fruits and vegetables. Coffee has historically had a strong cash foundation in PNG, yet that is now starting to be compromised by the pressures of population growth and their needs.
Additionally, With the advent of global warming and more irregular weather patterns, PNG production flows are going likely to become more volatile. This can be seen in their export volumes over the past few years where production fluctuates from as low as 711,481 60Kg bags in 2015 to 1,137,886 the following year.
Infrastructure was another frequently talked about issue. Despite some large upgrades in recent years such as the new port at Lae, the major problems arise once you leave the port as the roads are all in very poor condition. This makes trucking and moving products extremely expensive, slow and unpredictable. Yet, there is promising news on the horizon as the government is in the process of approving a new Highlands Highway project that will see the upgrade of the road from port to highlands. This is due for completion in 2021.
With the significant growth of PNGs population over the past 30 years, increasing from 2 to 8 million people, much of the infrastructure and utility services are still working on the basis of population numbers from 30 years ago. Infrastructure assets like water supply and power simply cannot keep up with demand. This has passed on additional overhead costs to the coffee industry just to keep a flow of coffee into the world market.
The coffee Industry Board of PNG operates a coffee research institute that has a wealth of knowledge and research about all things coffee in PNG from varieties to farming techniques that have been built up for 40+ years. However, this knowledge has struggled to reach smallholder farmers across the country due to politics and the overwhelming tribal nature of PNG society.
Overall, from a personal standpoint I'm somewhat saddened by the way PNG has stagnated their coffee production, with little development over the past 30 years. Looking at a similar sized producing country, Honduras, over the same time have pushed forward, reinvesting in producers and production. It is clear PNG has not done the same. In the latter part of the 1980s PNG's total production reached over 1.4 million 60 Kg bags. In recent years production has been as little as half of that number. As for Honduras, their production has risen from 1 to 7 million 60 Kg bags over the same time period. This lack of investment is also now perceivable in the cup as there has been a slow but steady decline in quality. I believe this to be a consequence of the relationship between the average age of trees and a lack of security for the farmers' crops (cherries literally get stolen off trees). It will be interesting to see whether PNG's coffee will be reignited in the coming years.
Scott Bennett