Snapshot from Origin: Costa Rica

As harvest was drawing to a close in Central America, it was time for us to pack the essentials, get the cameras ready and polish the cupping spoons. Check out our 1 week adventure in Costa Rica below!
It's been a few years since Bennetts have visited Costa Rica, so we thought it was time to see how the origin is progressing. After a mere 24 hours of flying we touch down in San Jose Costa Rica to meet Jacqui and Sebastian from STC (Sustainable Trading Company) a small but effective team, they help consolidate amazing microlots from across Costa Rica for us (Little known fact! Jacqui actually started her coffee career as the marketing manager with Bennetts, now the QA manager for STC).
Chatting with Sebastian we learned that this years harvest volumes were significantly decreased due to a low crop cycle. However, expectations for next season are very positive; if the predicted rains come soon, they expect to see a flourishing future crop.
Struggling through the jet lag, we cupped some delicious pre shipment samples at the STC office, then Sebastian drove us to the Central Valley to visit Finca Las Lajas micromill. Greeted by husband and wife Omar and Francisca, we learnt how they have been experimenting with different drying processes using temperature curves "just like a roaster would use roasting profiles".
This year we have contracted two new lots (Yellow and Black Diamond). These specialties are slowly dried, for up to 30 days in heaped piles under shade cloth. Omar explained that doing so the internal temperature of the beans is kept cool to avoid "over-fermentation" and maintain a high quality. Here we had the pleasure of cupping these intensely fruity and sweet coffees with their proud growers, to the backdrop of a colourful sunset over the Central Valley.
Day two of our tour took us up into the Acosta region where we met Don Carlos and sons, members of Asoproaaa. Different to a Cooperative, Asoproaaa is an Association with a central mill where this coffee community share knowledge and support each other. There is no membership fee and no financial premium. As harvest was finished in this region, we had a tour of some newly planted areas that Don Carlos is hoping will bear fruit in the next two years. We discussed the challenges of the producers and the cost of farming. With the 'C Price' so low and climate change causing havoc on flowering cycles and Roya migration, many farmers with small properties are finding it increasingly difficult to meet the costs of production. Without specialising into the high quality market, these small farms might not survive.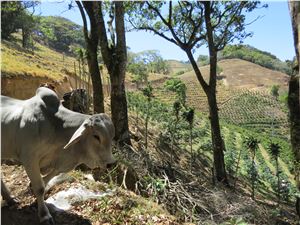 Driving on to the Tarrazù region the landscape became jaw-droppingly beautiful and we got to see the famously rich and proudly shown culture that Ticos (as Costa Ricans like to refer to themselves) have for their homes and environment. This was truly evident as we passed brightly coloured houses adorned with potted plants and well-maintained farms and mills.
Stopping at CoopeTarrazu we enjoyed a twilight tour of the mill with General Manager, Ricardo. Processing mostly washed coffees, this massive facility can produce 4,000 bags of coffee per day during peak season.
Across the road is their smaller mill where they handle microlots and where the famous Tirra Natural and Honey are processed. Here again we partook in La Catación - slurping some amazing coffees. While still very fresh, the potential in these coffees was inherent and with a couple of weeks resting, we hope to see the pre shipment samples in our lab soon.
We spent the night in the quaint town of Dota; meeting Luiz and Monserrat of CoopeDota in the morning. They showed us the cooperative hailed as the first coffee producer and roastery to be CO2 neutral certified in the world. They are paving the way for sustainable coffee production of the future. Not only are they reducing and offsetting their emissions but they are actively involved in their community. For Luiz, the key for success of coops is diversification: they promote coffee tourism, opened a coffee shop and produce other products such as bottled water and honey. In an attempt to encourage the younger generations to keep interested in coffee and farming, they now have a barista school and have introduced a program into local schools from year 5 to educate students in coffee production and good sustainable practices. Just last year they beautifully re-branded the entire company image, including their green production, roasted products and cafe.
Day five, with another long drive ahead of us, we left the Tarrazu region and cut through "Cerro de la Muerte" (Death Mountain) overlooking a spectacular view of the Chirripo mountains at sunset. Arriving in San Isidro we met with Jonathan from CoopeAgri - the largest coop in Costa Rica. With more than 5000 coffee growers and 2000 sugar growing members, CoopeAgri has the backing to do some amazing things.
Jonathan took us to see a newly planted area previously used by cattle farmers. Brunca region, ideally situated between 1400-2000 metres above sea level is home to a number of small plantations ranging from 1 - 4 years in age. The most interesting thing about this area though is that many of the farmers buying land for coffee production were in their 20's.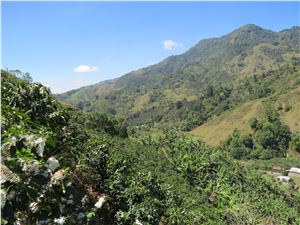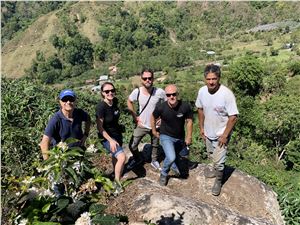 CoopeAgri is also heavily invested in innovation that supports both the coop and the local community. Understanding that the pulping process was putting large amounts of mucilage sugars into their waste water treatment ponds, and breaking down to release methane gas, prompted the coop to find new ways to capture and utilise the pulp. With specially designed centrifugal machines, the sugary mucilage is being removed from the fruit and manufactured into a high antioxidant health beverage. Not only is a waste material being repurposed, but they have cut down water use at the washing station when preparing fully washed coffee. They also repurpose their cherry skins into organic fertiliser, which is produced by composting the fruit with microbes. CoopeAgri is the largest producer of organic fertiliser in Costa Rica. The nutrient rich product is available to the coop members at a discounted price, and excess is sold the local community.
Sadly, we finished our tour here and once more made the long journey back to San Jose though the Cerro de la Muerte. A week full of beautiful sunsets made it hard to leave.
It was encouraging to see groups like CoopeDota and CoopeAgri supporting young blood to join the trade. With the average age of farmers around 60 years old, the entire global industry is relying on the next generation of farmers to take the helm. Likewise, new initiatives designed to bolster diversification of the coops and quality of products might just give farmers enough to ride out the lows in the market and increase commercial and environmental sustainability in the long-term.