The Bennetts Monthly February '20
Monday 3 February 2020
by

All things Bennetts & Coffee ...
WELCOME TO FEBRUARY!
This month our trading manager, Alex, heads off to Guatemala and Nicaragua to visit our suppliers and check out how the 19/20 harvest is progressing.
We will also be planning our travels over to the SCA in Portland shortly. If you are heading across or are interested to see the Swiss Water Decaf Processing Plant in 'neighbouring' Vancouver, drop us a line, we'd love to connect!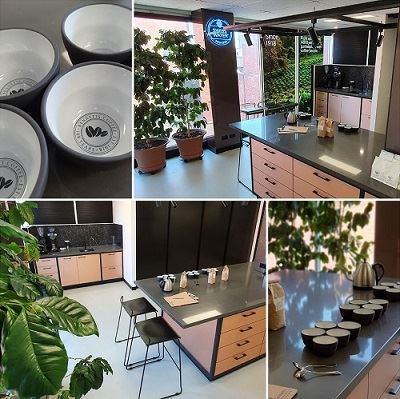 Did you know we have a custom built cupping room in Kew?! If you would like to come and visit us for a cupping session or to discuss products and blending, we'd be more than happy to host you. Please contact your account manager.
A WORD FROM THE CUPPING ROOM
As Brazil kicked off the coffee year in late 2019, we started to see new season shipments sail in, and things are looking good despite the initial concerns seen at harvest. Our standard range has been landing in Australia for a few months now, however we are still waiting on some specialties like new harvest Mantiqueira Natural, Monte Alto Pulp Natural and Maragogype in the first quarter of this year… stay tuned.
It's your last chance to get your hands on a fruity Natural Ethiopian before the new season kicks in. We have a great Yirgacheffe Gr3 cupping with subtle melon, blackberry and lemon fruits. A rich syrupy body carrying a long balanced finish of toffee, almond and bitter-sweet cocoa. Landing with a cup score of 84 points, this lot is great to add a deep note and subtle funky fruit to a blend. We won't be seeing coffees like this until May 2020, so stock up! Ask your account manager for pricing and availability.
MARKET REPORT
"Everything that goes up, must come down", as the saying goes… and in this case in particular the coffee market came down with a resounding "THUD!". In a short space of time (just over three months), Arabica pricing for the New York May-20 contract went from lows of just under 100 USc/lb to the mid 140s, and then back to just over 100 USc/lb (see chart). Suffice to say, this volatility has caught a lot of people by surprise and has left people wondering what will come next?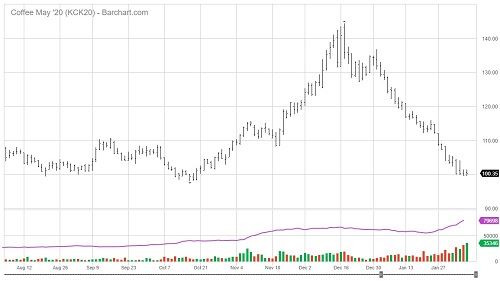 As mentioned last month, the upward move (followed by the turnaround) was driven mostly by speculative funds repositioning their books from net-short to net-long. Once the market reached its limit, the funds let the air out of it (so to speak) and sat back as prices fell as rapidly as they had risen.
It wasn't all about the big bad funds, mind you. There were a couple of weak fundamental reasons for prices to go up (some reports of dry weather in Brazil, and a slight coffee stocks deficit for the upcoming season), so when these were removed by good rains in Brazil at the start of the year, which led to more favourable outlook for next season (now they expect a small surplus), prices predictably dropped until they settled around the 115c/lb mark for a while. Enter Coronavirus.
The outbreak in China's Wuhan Province has sent a shudder through the global economy. With large areas of China effectively in lockdown mode, global commodity prices have fallen sharply. This includes coffee, which now finds itself below 100c/lb yet again, as a result of a softening macroeconomic situation and a softening of the Brazilian Real (which as the producer of 50% of the world's arabica coffee, ultimately strongly influences the price of this commodity). How severe the consequences of this outbreak will be to the sector (and the World Economy for that matter), will really depend on how quickly the spread of Coronavirus is contained, and ultimately controlled.
Have a great February,
The Bennetts Team