The Bennetts Monthly October '20
Thursday 1 October 2020
by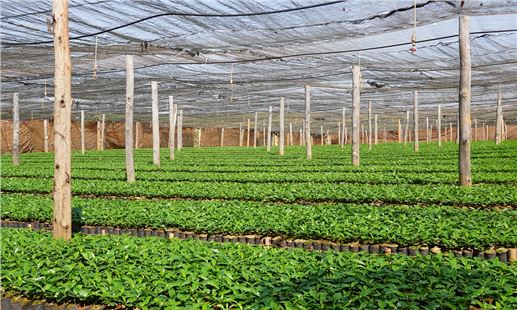 All things Bennetts and Coffee....
WELCOME TO OCTOBER!

Happy International Coffee Day!
October 1st marks the official start of the 2020/2021 Coffee Crop Year.

As we enter the fourth quarter of the calendar year, we reflect on the speed at which time is moving. Over the past 6 months we have been working in the background to refresh our website, if you haven't seen it yet, check it out now! We'd love to hear your feedback as we're constantly working on making improvements (please note the log in and registration is currently inactive and will be part of our second phase in 2021).

Last month we celebrated both the Australian Organic Awareness Month as well as Rainforest Alliance Follow the Frog campaign. Both were received with great success – however if you would like more information about either of these or any of our other certification systems – check out these links.
Fairtrade
Australian Certified Organic
Rainforest Alliance
Swiss Water Process


MARKET REPORT

As anticipated last month, the speculator-driven rally was short-lived and consequently prices tumbled dramatically over the space of a week. The New York "C" plummeted from the heady heights of over 130 US cents/lb in the first half of September to settle in a trading range of between 110 to 115 US cents/lb for the remainder of the month. At the time of writing, the strong support level of 110 US cents/lb is being tested, which could see prices descend even further.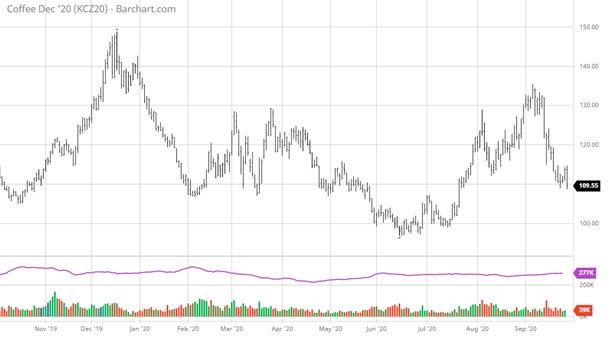 The reasons behind such volatility have been discussed at length in previous market reports, and remain unchanged. Not a lot has changed in terms of supply at origin, with Brazil pretty much having already completed harvest of this year's crop and it being far too early to know what will happen to next year's crop. Therefore, any talk of drought in this origin at this early stage affecting future yields is to be taken with a bucket of salt.
Casting our eyes beyond Brazil (for once), we should be paying attention to other major origins and how they will affect supply. Harvest in Colombia's main central coffee-producing area (known as the coffee axis) is well underway. The news so far is encouraging with reports of good yields and quality, which should also contribute towards downward pressure on prices (both internal and external). More importantly, labour availability for coffee picking has seen only minimal disruption due to Covid, something which months ago had been flagged as a possible major issue, and thankfully has not come to pass. We can only hope the same is true for Central American origins, which will be commencing their harvesting in the next couple of months.


INDUSTRY NEWS

COVID-19 is a once-in-a-lifetime shock to the world economy, and the future impact of such an unparalleled event is hard to guess, and the coffee market is no exception.While there have been fears a global recession and shutdowns in hospitality will reduce coffee demand, we have not as yet seen and impact overall demand.
What has changed is where and how people are consuming coffee. Online sales have skyrocketed globally – and while hard to track exact numbers, 'at-home' consumption has largely compensated for the losses of office and out-of-home consumption globally. The most interesting thing to note through all this, is that the average consumer has changed the type of coffee they drink. At home drinkers are moving towards higher-quality commercial coffee or very low-priced 'value' coffee from supermarkets. While super specialty lots initially dropped of the consumers shopping list, they are already making a comeback as cafes open up again. While the coffee industry may not return to pre-covid levels, the changes in consumer habits may push a more inclusive style market that evolves the industry.


COMING SOON

Some great coffees are about to hit our shores… check our socials for updates.
A mixed container of experimental varietals and processes from Kelagur Heights Estate in India. These coffees will be available next week. Get in touch for landed samples now.
For those of you who love a syrupy fruity coffee suitable for blends or singles – our Guatemala Natural El Boqueron is back in stock late October.
Later in November we are expecting a shipment of mixed Natural and Washed Grade 1's from Rwanda. These microlots will be packed in 60Kg grainpro bags - however quantities are limited. Contact your account manager for more details.
And in a couple of months we will be receiving a coffee from the CENCOIC (Central Cooperativa Indígena del Cauca) group in Colombia. The 'Popayan San Francisco' is produced by indigenous groups on reserves in the Cauca region. Years of armed conflict in the region have given way to a more stable and peaceful time allowing CENCOIC to flourish. The group has seen steady growth over the last 5 years as more and more families from farming communities in their native geographical reserves are producing the right quality for export. The typical farmer in the cooperative has around 1 hectare of coffee growing land at an average altitude of around 1800 masl. We currently import Tacueyo, Munchique and Excelso from CENCIOC and the San Fransisco type is soon to join the ranks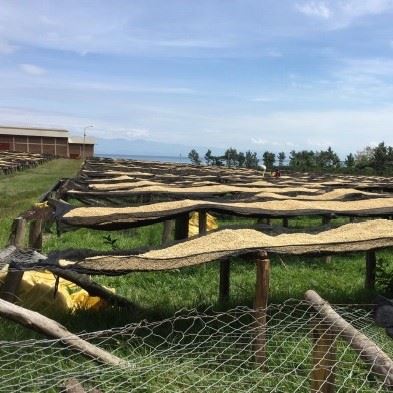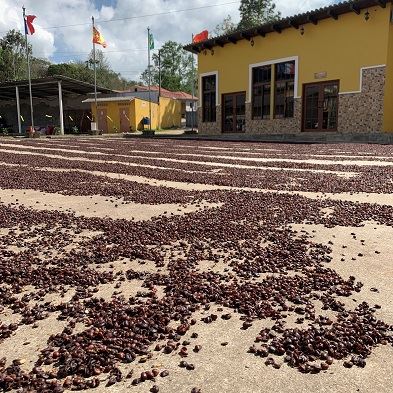 Parchment dying in Rwanda Cascara drying in Honduras
CASCARA

Have you tried Cascara?
What is referred to as coffee 'beans' are in fact the seeds of the coffee fruit. The coffee fruit or skin is known as cascara – a Spanish word translated roughly to "husk" or "shell. It is believed that cascara was consumed in Africa long before people roasted and brewed coffee beans, and it is commonly drunk in Bolivia where it is served with ginger and cinnamon in a drink known as sultana. In the pulping and washing process, the coffee seeds are removed from the fruit, dried and used as a tea like beverage by infusing it with hot water. Alternatively the cascara can be used as an organic fertiliser/compost and returned to the coffee plantation.

While a few producing countries have realised into cascara's potential, most of coffee's fruit is wasted. Sadly a lot of coffee fruit ends up in landfills. The global coffee industry generates 46 billion pounds of coffee cherry waste every year, which emits the equivalent of 16.6 million metric tons of greenhouse gases. After the coffee cherries are composed and fermented, they releases methane, a greenhouse gas that is 25 times more effective at trapping heat than carbon dioxide. These wasted coffee cherries also have implications for our water – the ocean absorbs about 30% of the carbon dioxide released into the air, which leads to a process called ocean acidification. This process has dire implications for all kinds of aquatic life, as well as the people who depend on ocean species for their food and their livelihoods Right now, coffee fruit is treated like an unavoidable by-product of coffee production. But it can be so much more: it can be transformed into a unique, delicious drink and a top seller for coffee producers and retailers alike.

We currently stock a delicious organic cascara from the Capucas coop in Honduras. Please contact us for more details about this unique product.
Have a great October,
The Bennetts Team