The Bennetts Monthly December '20
Tuesday 22 December 2020
by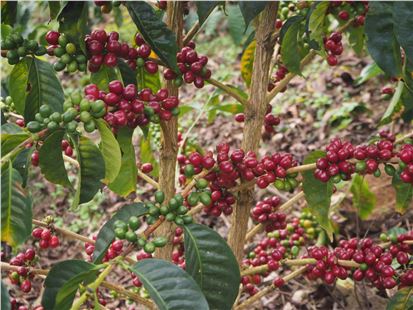 All things Bennetts and Coffee...
WELCOME TO DECEMBER!
In the early days of this year's COVID pandemic the global freight industry held up very well and with minimal disruption. From March through to July many of the worlds shipping ports were working and managing COVID restrictions across their systems.
Changes developed from August to October and we started seeing some slight issues arising in various ports around the world due to container shortages and vessel schedule changes. As we progressed into the fourth quarter - October and November, it was becoming apparent that many of the trans-shipment ports in Asia were starting to experience congestion issues. This included the Port of Sydney - as much of Sydney's cargo was re-routed into Melbourne and Brisbane and railed to New South Wales during this period.
Today in many of the coffee supply ports around the world are working as usual and have reasonable supplies of empty containers and regular vessel callings however in early December we started seeing delays at trans-shipment ports in Asia which is creating somewhat of a logjam during Australia's usual peak cargo volume period. Nevertheless, our logistics team have been very proactive securing shipping space on vessels from our origin supply partners to minimise the disruption of Australian product arrival time. At the moment we expect these transit port issues to clear in the first quarter of 2021, and we are working diligently to make sure we have a good supply system in the early new year.
HOLIDAY CLOSURES
From all of us at Bennetts, we wish you and your families a safe and prosperous Festive Season and all the best for the New Year. We look forward to working with you again in 2021.
Our office will be closed from Thursday 24th December, and be open on Tuesday 29th December, Wednesday 30th December & Thursday 31st December.
Our office will then be closed on Friday 1st January 2021, and
reopening for trading on Monday 4th of January 2021.
Please be advised that our warehouse will be closed on Thursday 24th December, Friday 25th December and Monday 28th December.
Our warehouse will reopen on Tuesday 29th December, & Wednesday 30th December for urgent despatches and or collections.
Our warehouse will then re-close on Thursday 31st December & Friday 1st January 2021.
Normal warehouse operations and order processing will resume on Monday 4th January 2021 with next day order despatch available on Tuesday 5th January 2021.AUCTION RESULTS
Thanks again to everyone who bid on our exclusive Mexican GTNay Mujeres Productoras Auction last week, we were overwhelmed with the generosity of bids and we are excited to announce the winner of the Auction; Coffee Cartel in Victoria. The proceeds form this Auction will go directly to the 14 women producers of this amazing coffee to use for the purchase of machinery, new seedlings, or fund support for their families.
We still have a few bags left of our other washed and natural lots from GTNay if you'd like to get your hands on any of these special Mexican coffees. Contact your Account Manager for details.
GROUNDS FOR HEALTH
Grounds for health is a non-profit organisation which works to reduce cervical cancer among women in developing countries. Cervical cancer is one of the easiest cancers to detect, treat, and cure when caught early.
In 1996, Grounds for Health was founded by a member of the coffee industry who recognised that thousands of women in coffee-growing communities were dying needlessly from cervical cancer. Since then, Grounds for Health have screened more than 124,641, treated over 10,205 women and trained 300+ community-based clinicians in seven countries.
As with the rest of the world, Grounds for Health programs were slowed dramatically at the beginning of the COVID pandemic. They had to adapt both their training and screening procedures. They have introduced HPV self-sampling (HPV stands for Human papillomavirus, the virus that causes cervical cancer). Only women with positive results are asked to come in for treatment, which means that the approximately 85% who test negative will avoid the cost and risk of exposure to COVID by traveling to health centres.
Both in Kenya and Ethiopia the programs have since rebounded and are seeing a rise in numbers of women screened and treated. In 2020 alone, 9,808 women were screened and 850 have been treated.
Bennetts have been a major donor of Grounds for Health since 2016 and we will be continuing our support for the next year by funding USD$5,000 to the region of Oromia in Ethiopia. This project involves the creation of six 'Centres of Excellence' to demonstrate high quality services and introduce new technologies for cervical cancer prevention, including the recently Ethiopian government approved 'thermal ablation' treatment tool, which is being used successfully in Kenya, as a faster and more efficient treatment device.
If you would like more information or to donate to Grounds for health, you can visit their site
here
.
MARKET REPORT 
What a volatile month (and a bit) it has been. The arabica 'C' price for March-21 contract bounced off a recent low of just over 105 US cents/lb at the start of November, and spiked sharply at the middle of the month to settle in a very wide range between 116 and 125 US cents/lb.
There were a few key reasons behind this latest price rally. On one hand, as had been widely reported for a few months prior to the rally, rainfall across the main coffee-producing region of South Minas in Brazil had been below historical averages. This is critical as these are the months leading to the post-flowering period. If water is lacking, trees can start aborting fruit instead of setting them, which means potential yields are therefore diminished.
The water issue is further exacerbated by the fact that next year's harvest will be a low production cycle year for Brazil, having come off a record production year this past season, which leaves the trees depleted and in need of a rest. As a result, next year's arabica harvest is expected by most estimates to be around 30% lower than this year's bumper crop.
Further north a couple of large hurricanes hit Central America in quick succession during November. Aside from some crop losses (concentrated mostly in Honduras), this caused damage in road and port infrastructure which, if not repaired quickly might affect labour mobility as well as the ability of these origins to get their coffee shipped on time just as the harvest is getting into full swing.
The third major bullish factor for coffee pricing is the recent weakening of the US dollar against a number of currencies, including the Colombian Peso and the Brazilian Real. This means that you need more US dollars to pay the same internal price in coffee producing countries, resulting in higher prices on the world front. It bears mentioning also that the Aussie dollar has also rallied, which somewhat negates the effect of currency, as we need less AUD to pay the same USD price.
Generally speaking, the above factors are very supportive of higher prices for coffee. There is still however the issue of consumer confidence, as northern hemisphere economies entering winter are facing further pain while grappling with sharp increases in cases of COVID. Vaccination programmes might be getting unrolled in Europe and North America, but it will be a while before the effect of these can truly replace lockdowns and other restrictions in movement (and their associated effects on the economy).
Have a great December,
The Bennetts Team