The Bennetts Monthly February '21
Wednesday 3 February 2021
by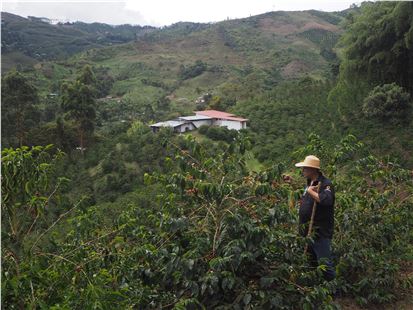 All things Bennetts and Coffee...
HAPPY NEW YEAR!
While it might be a little late for new year well wishes, January has whizzed by us as we were busy moving all our coffee and tea to a new storage facility in Altona North. Over the past 6 months we have been working diligently with our Warehousing provider Allied Seafreight to build a fully insulated storage space – custom designed for warehousing our precious commodities.
Located at
27-43 Toll Drive Altona North
,
Victoria
, our new warehouse site is bigger, brighter and better equipped than our previous warehouse with state of the art double deep racking, polished concrete floors and rapid roller door. We are a little bit excited!
If you're organising a collection from the facility - follow the directions provided by us on your collection notice, some COVID restrictions still apply. Pick up is at the rear of the building. Please drive down the left side of the site and follow directions given by the Allied Seafreight staff.
MARKET REPORT
A new base price for arabica seems to have solidified over the past couple of months, as successive reports from various trade houses and government agencies have confirmed that Brazil's 2021/22 arabica crop will be 30-35% lower than the current season's bumper crop. South Minas and Mogiana seem to be the worst affected regions.
Brazil's crop size is usually cyclical, with alternating large and small crops, but next year's "off-year" will be exacerbated due to water deficit during the critical post-flowering period in which fruit needs good water availability in order to set and then develop. While next year's crop in Brazil is still far from ready to pick, the market tends to react pre-emptively to this type news in order to factor in a higher replacement cost of coffee in the future.
At the moment there seems to be solid support at 116-120 US cents/lb, which is related to the above-mentioned factors. However, with the exception of a brief foray, prices have not been able to conclusively break through 130 US cents/lb. This is due to recent weakening of the Brazilian Real against the greenback, as well as consumer confidence still failing to gather steam on the back of the ongoing Covid crisis in Europe and North America.
Elsewhere, washed coffee prices are still firm owing to a late start in the central American season (which also suffered losses due to hurricanes in November), as well as the main Colombian crop being well and truly over. An expectation of a short and sharp fly crop in Colombia is expected to be supportive of prices for the world's largest washed arabica producer.
A WORD FROM THE CUPPING ROOM
As we start to see 2020/2021 crop pre shipment samples though the cupping room we can look forward to some great new seasons lots landing over the next few months.
First off the rank we have some great fancy lots inbound from our friends at Ipanema in Brazil. This year we have selected some Natural, Pulp Natural and Tree Dried microlots with unique flavours such as Tangerine, Plum, Wine, Cherry, Raisin and Sugarcane. All to be packed in nitrogen flushed 10Kg boxes, get in touch with us for more details.
If you're into super premium specialty – we are just about to land five 24Kg vacuum packed cartons of Colombia Geisha La Maria Natural Microlot. This amazing coffee was used by our very own Harry Ko at the 2019 National Brewers Cup Competition. With high zesty citric notes, perfumed florals and complex acidity, this coffee is perfect for a showcase filter brew.
Finca La Maria is located on the north west slopes of the Andes at 1750 meters above sea level. Owned and farmed by Orlando Ospina, an agronomist with extensive experience in growing geishas, he keeps the density of trees to only 5000 plants on the 2.5 hectares. Producing just 1000kg of coffee per year, and preventing over-exploitation of the land. An ideal climate for growing is created by a combination of strong sun light and shade from the morning fog and banana trees, helping to produce high density beans, which leads to more sugar and acidity in the cup.
Only the most mature cherry is handpicked and separated in float tanks. The best cherry is then fermented for 70 hours and dried on raised African beds for over a month. If you have interest in this unique coffee, please contact your account manager.