Bennetts Sponsor Throw at Single O!
Friday 15 November 2013
by

A wrap up of the biggest coffee party Sydney has ever seen!
I was fortunate enough to spend last Friday in Sydney judging Single Origin's latte art Throwdown. The event saw Single Origin Roasters turn their Roastworks (an impressive space and a dream for any roaster), into a latte art competition stage. It was a fun and friendly opportunity to showcase the talents of the Sydney coffee community. The evening brought together 300 spectators and consisted of beer, pork buns, milk maids and a wheel of death. La Marzocco also sponsored the event, generously donating a GS3 Paddle espresso machine to the lucky winner.
On arrival we were briefed, calibrated and were introduced to fellow judges and resident MC Michael Phillips of Handsome Roasters. We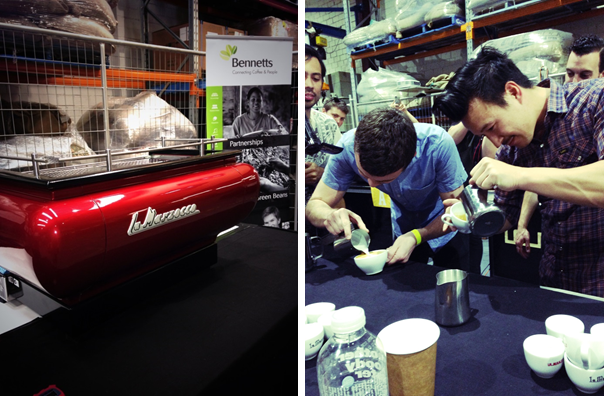 mingled over beers, awaiting the competition to begin. The judging panel was split into two, and our 'precise' judging technique involved a countdown of 1, 2, 3… point! Competitors were at the mercy of the wheel of death, determining the subject of their pour, either a heart, tulip, rosetta, swan or multi pattern. Shots were poured using Bennetts Colombia La Esperanza Yellow Bourbon amongst other coffees, and the competition was underway. Round one quickly saw the cutting of the field from 36 to 18 excited baristas.
Round two consisted of similar challenges, however determining a winner became more difficult as the remaining competitors all possessed a high level of pouring technique. A surprise side challenge between Matt Perger and Dan Yee involving shots of bourbon and a dizzy pour entertained the crowd, with Dan taking out the contest. The grueling final round saw three baristas go head-to-head and was taken out by Jibbi Rawirat T. from Pablo & Rustys, crowning her the latte art champion of Throw at Single O. She was lucky enough to take home the GS3 Paddle, an enviable prize indeed.
Congratulations to Jibbi and all competitors. Thank you to Single Origin, La Marzocco and all who contributed to the event. It was a great success, and a really well-organized evening. We hope to do it all again next year!