Meet the Bennetts: The Three Marketeers
Wednesday 26 February 2014
by

So far we have covered off the accounts and despatch departments in the Meet the Bennetts series, but we haven't yet met one of the most integral teams in the business.

In order for sacks to be shipped out the door and invoices to be paid, we foremost need to sell coffee! Enter: the sales team. Our sales department has, until recently, consisted of the dynamic duo of Lorna and Guy. Earlier this year our new recruit Alex joined Bennetts, and is specialising in sales as well as trading.
Guy is the resident couture model of the office, always colour-coordinated and sporting the latest label. He proudly received the best dressed award at the 2013 Bennetts Christmas party and can pull off a pair of baby blue chinos like nobody's business. Behind the flawless exterior and charismatic charm, Guy is one of the more experienced members of the Bennetts team. He joined us in 2008 and has since established himself as an origin specialist. Having travelled widely throughout his career, visiting plantations, exporters and cooperatives, he has extensive hands on experience. He has also represented Bennetts at international SCAA events and is a certified Q grader.
Lorna has been given the nickname 'the nose' for her exceptional olfactory senses and her ability and talent to pick out the most subtle nuances in cup aroma. She joined the Bennetts team in 2010 and has been an essential part of the sales department since day one. Coming from a family background in wine, Lorna has had previous experience with sensory evaluation and is a practiced taster. She completed her Q grading qualification in 2013 and is often asked to judge for various roasting and tasting competitions. She recently returned from her first origin trip to India where she selected our new season Indian coffees – look out for her travel blog in the next few weeks!
Alex rounds out the Bennetts sales team, and while he has only been in the role a short time, he has certainly settled in and made his mark on the business. Hailing from Uruguay, his first language is Spanish and he has already earned his keep teaching the rest of the team how to pronounce the names of some of our more exotic Central and South American coffees! Alex has joined us from a background in wool and commodity risk management, and has brought with him a unique insight into the market. His role within the business encompasses sales and trading, and he will be undertaking his Q grader certification later this year. Having approached Bennetts with a fresh pair of eyes, Alex has already actively contributed to the business drawing from his diverse experience, and we are thrilled to have him on board.
Our sales team can most often be found at their desks on the phone, however they foremost enjoy being out on the road and visiting customers. Hopefully with the new functionalities arriving on our website shortly, they will be able to spend a lot more time out of the office this year. They are always up for a chat and happy to offer advice on origins, blending, and those tricky customer questions. To speak to Lorna, Guy or Alex contact our office; or tweet Lorna @lorna_shaikh, Guy @3guymw, or Alex @alexoncaffeine.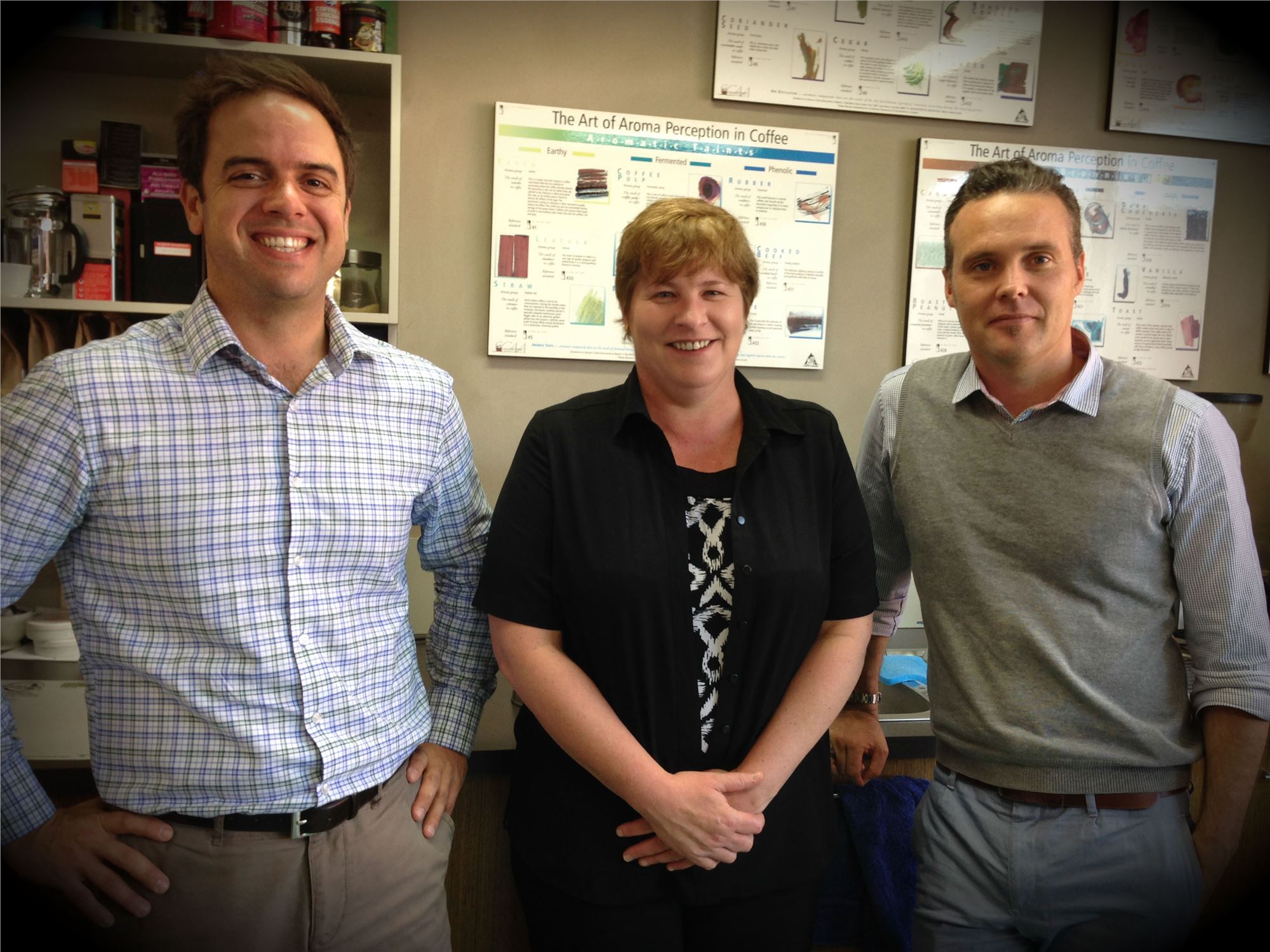 If you haven't already met the rest of Bennetts team, catch up with our despatch and accounts departments from earlier posts.