Saving Wild Tigers by Doubling Down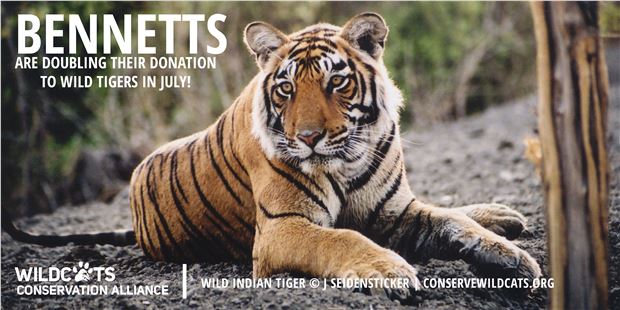 For the whole month of July in the lead up to World Tiger Day, Bennetts will be doubling our donation for every bag of Indian Tiger Mountain sold. All you have to do is purchase Indian Tiger Mountain and for every bag Bennetts will donate 2 USD.
As part of our Centenary celebrations we wanted to go above and beyond for the projects we support. Bennetts have decided to double their regular donation (to 2 USD) for every bag of Indian Tiger Mountain sold in the lead up to World Tiger Day on the 29th of July.
In 2006 our director Scott was so captivated by his son Tom's love for tigers, he felt compelled to help tigers have the best chance of survival in the wild. After helping Tom with a school project on tigers, Scott got in touch with the Zoological Society of London, the overseeing body of the then 21st Century Tiger, to see how he could help.
Scott established a connection with 21st Century Tiger and set up the product line of Indian Tiger Mountain Coffee that would see donations go to the tigers for every bag sold. 12 years later and Bennetts have donated almost $60,000 USD in the fight to save wild tigers.
Bennetts has funded projects including the tagging of some tigers in the Kanha National Park for behavioural and conservation research as well as a team hunting poachers in the forests of Indonesia.
Earlier this year, 21st Century Tiger merged with the Amur Leopard and Tiger Alliance to form WildCats Conservation Alliance. In doing so the combination of resources and streamlining of administration strengthens the organisation's ability to be more effective in implementing preservation projects. The Alliance still guarantees 100% of Bennetts' donation will be distributed to the conservation and research of tigers.
Additionally, Bennetts Team member Heidi has recently adopted a tiger through the WWF in India as well as a tiger at the Melbourne Zoo. It's safe to say everyone at Bennetts like tigers a lot!
To order Indian Tiger Mountain coffee send us an email at trading@hab.com.au or call us on (03) 9853 0328