The Bennetts Newsletter!
Monday 10 December 2018
by

December 2018 Newsletter! All things Bennetts & Coffee...
Update from the Bennetts Team - 100 Year Celebrations
This year is nearing its end, and as a team we are humbled and reflective on a centenary milestone. Bennetts are extremely proud of our long history in Australia's tea and coffee trade. Founded in 1918, we have had the privilege of working with many passionate, driven and professional members of the industry. We'd like to take this opportunity to thank our customers, suppliers and origin partners for their continued support into our 100th year of trading. We look forward to what the next 100 years may hold.
The Golden Bean
Representing Bennetts at the judging table and green bean zone, Georgia Major, Khalid Oozeer and Oliver Berry were up in sunny Port Macquarie last month for the Golden Bean Coffee Roasters Competition and Conference. Roasters submit their coffees which are judged through a blind tasting format, in 10 different categories and brew methods. During the Awards Ceremony, our Director Scott Bennett was recognised for his excellence and dedication to the coffee industry being presented the 2018 Golden Bean Hall of Fame trophy. We had a great time judging all the entries and catching up with industry professionals again this year and will continue to support the competition.
The Coffee Industry
Over the past six weeks or so we have seen the New York arabica coffee futures market (aka the 'C') retreat steadily from the recent high of 129.20 US cents per pound reached in mid-October, to a two-month low of 105.55 (at the time of writing) in early December. Most of the downward move has been attributed to a progressive depreciation of the Brazilian Real, as less US dollars are now required to pay the internal prices in Brazil Reals demanded by growers. A similar situation has also occurred in Colombia, the world's largest washed coffee producer.
The other main factor keeping coffee prices down in recent times is the further confirmation that most main coffee producing origins are expected to have larger year on year coffee crops this upcoming 2018/19 season. This should keep a lid on the upside for coffee prices for the short to midterm.
Brazil, for instance, is expected to produce over 65 million 60kg sacks of green coffee, which is over 5 million bags more than the last "on year", two years ago. Colombia is expected to bring in over 14 million bags, which is a more modest 4% year on year improvement. These positive results, along with increased production in a number of other origins, are expected to more than offset a 10% drop in Vietnam's production (most of which is robusta) due to heavy rains and the resulting fungal disease damage.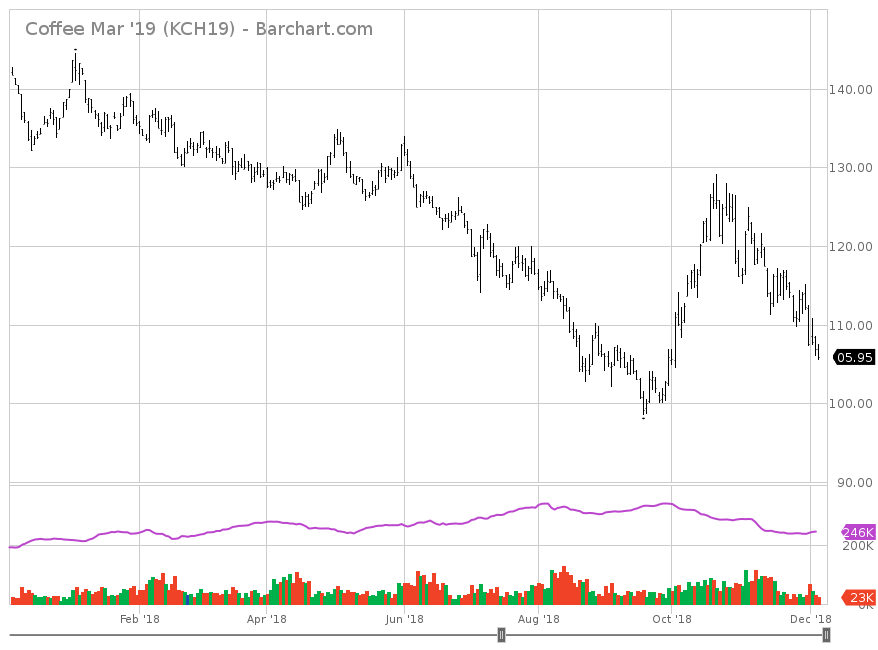 Christmas Closures
It's almost Christmas time... already! The Bennetts Team will be taking a short break over the Christmas period. The office will be closed from Monday the 24th of December to the 1st of January 2019. During this period, we will be unable to make dispatches, pick-ups or deliveries.

If you're concerned this may impact your orders and would like to know more, please contact us via despatch@hab.com.au, or call us on (03) 9853 0328.
A Word from the QA Lab
This month has seen some solid coffees coming through the QA room. Our stand out has to be the new Arabica/Robusta Blend Decaff from Swiss Water:
• Decaff Robusta? You heard correctly, Robusta is not only known for its high caffeine content but also its strong flavor which cuts though milk very well.
• A blend of Honduran and Brazilian Arabica with Vietnamese Robusta, this decaff lot is cupping with a toasty sweet full body. Honey, malt, soft herbal notes and a delicate citrus acidity.
• We think it's going to be a great option for espresso and milk coffee drinkers as it's almost indistinguishable from a conventional blend.
Shipping update:
In Brazil, the Port of Santos is still congested and exports are moving slowly. This is largely attributable to the lack of food grade containers available, with all agricultural exports reaching record highs, and imports on the down. With the overload of exports needed, places on ships can be few and far between. This will likely have a flow on effect for the months to come.

Enjoy the Month of December. We look forward to working with you in 2019!
From,
The Bennetts Team